Upcoming Events in Arizona
Including: Car Shows, Swap Meets, Motorcycle Events & Races
October 12 – Phoenix: The SO-CAL Speed Shop Arizona's Second Saturday is Saturday, October 12th from 6am to 9am at So-Cal Speed Shop, 3427 E McDowell Road.
October 16-20 – Lake Havasu City: The Relics & Rods 42nd Annual Run to the Sun is Wednesday, October 16th to Sunday, October 20th in Lake Havasu City.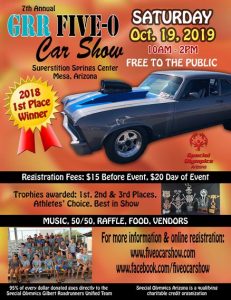 October 19 – Mesa: The 7th Annual GRR Five-O Car Show is Saturday, October 19th from 10am to 2pm at the Superstition Springs Mall Parking Lot, 6555 East Southern Avenue.
If you would like to add a show or event to our calendar please email the information to: tnewey@arizonacarculture.com