Upcoming Events in Arizona
Including: Car Shows, Swap Meets, Motorcycle Events & Races
March 7 – Sun City: The 4th Annual Spring Fling Car Show is Saturday, March 7th from 9am to 3pm at Sun Bowl Amphitheater, 10200 N. 107th Street.
March 14 – Phoenix: The Hooters Best of the West Car Show Series is Saturday, March 14th from 9am to 2pm at Hooters West Phoenix, 2820 N. 75th Avenue.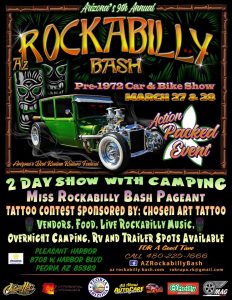 March 27-28 – Peoria: The 9th Annual Arizona Rockabilly Bash is Friday, March 27th and Saturday, March 28th at Pleasant Harbor Marina, 8708 W. Harbor Blvd.
If you would like to add a show or event to our calendar please email the information to: tim@arizonacarculture.com