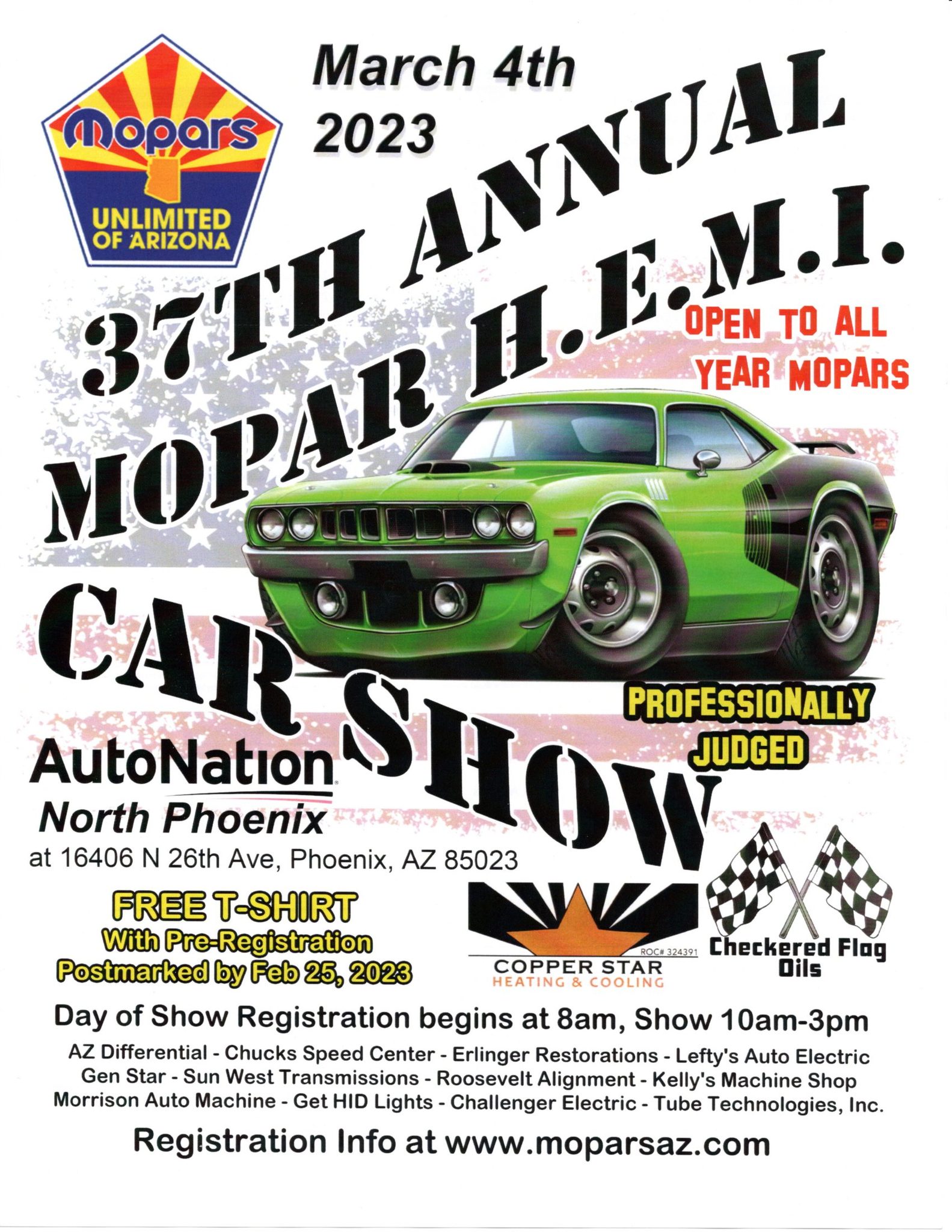 Mopar H.E.M.I. Car Show
The 37th Annual Mopar H.E.M.I. Car Show is Saturday from 10am to 3pm at Auto Nation, 16406 N. 26th Avenue.
The H.E.M.I show, Saturday March 4th, 2023.
The all Mopar H.E.M.I. Show and Mopars Unlimited of Arizona are sponsored by AutoNation Chrysler Dodge Jeep RAM and FIAT North Phoenix, 16406 N 26th Avenue, Phoenix, AZ 85023-3100. With 28 classes, professionally judged Mopar only car show, swap area, food, raffles, and door prizes.
Plenty of space for show cars and vendors. Trailer parking is available on perimeter road adjacent to show lot. Many nearby hotels to choose from. Mark your calendars so you don't miss this Show.
Registration opens at 8 AM, show from 10 AM to 3PM. Awards starting approx. 2:30pm. Free admission for spectators.
Entry Fees –
· Pre-Registration – $30 for 1st Judged vehicle and $25 for Display Only vehicle which includes free T-shirt**
· Day of Show Registration – Judged entry $30, Display Only entry $25 and additional judged vehicles (same owner) are $20 each., T-shirt purchased separately.
** Pre-registration must be post marked by February 25th, 2023, to get your free t-shirt.
Registration form and payment can be completed online at
www.moparsaz.com
or may be printed and mailed in with check or money order. Men's and Woman's Show T-shirts available for purchase on day of show for $15, size and quantity are limited.