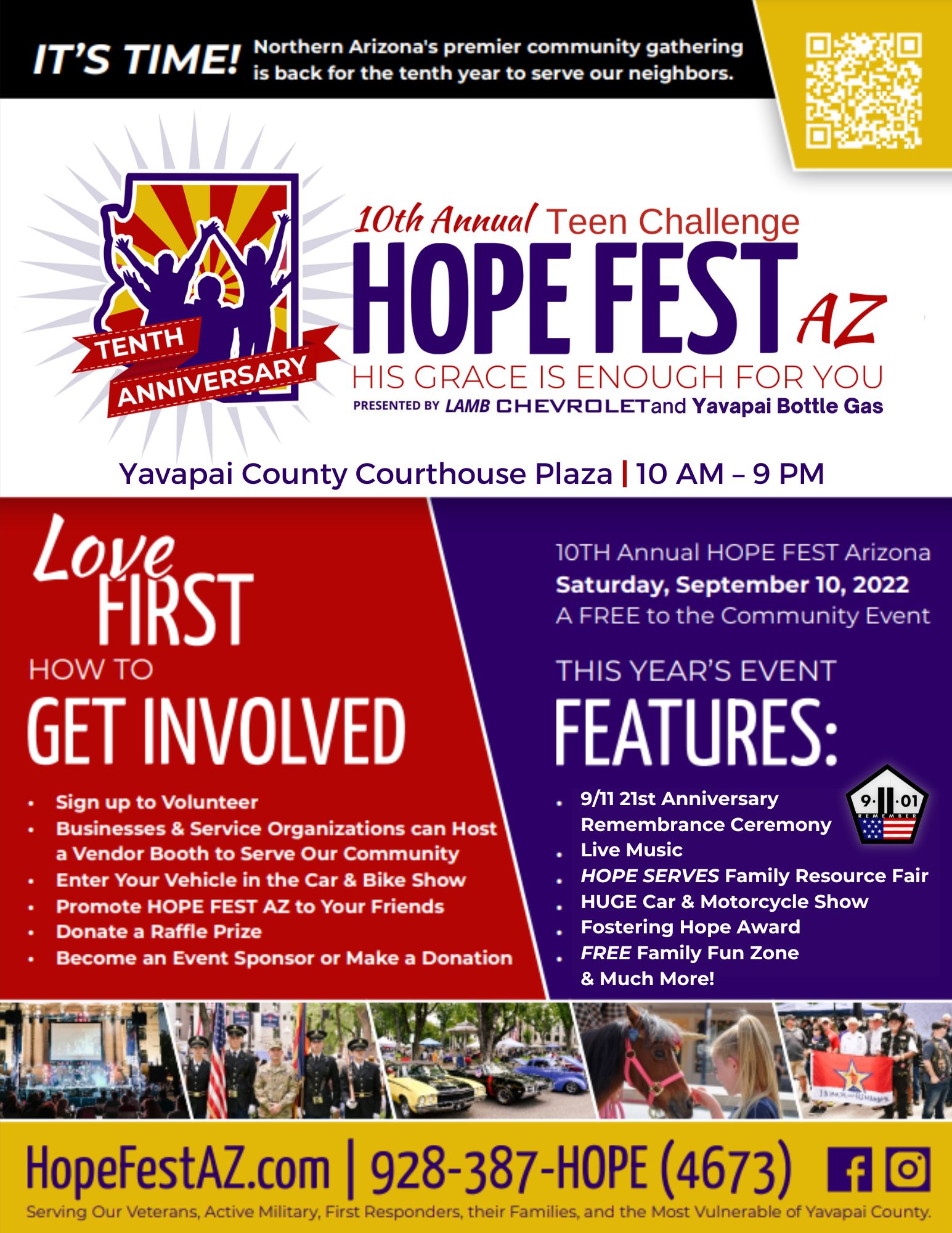 Hope Fest Car Show
The 10th Annual Hope Fest Car and Motorcycle Show is Saturday from 10am to 9pm at Courthouse Square, 120 S. Cortez Street.
A community outreach event – Get ready…the date is set — HOPE FEST Arizona 2023– the 11th Annual happens Saturday, August 19th. Prescott's beautiful Yavapai County Courthouse Plaza will once again come alive as thousands will enjoy music, guest speakers, a multitude of connections and community services, as part of the HOPE Serves Family Resource Fair, the FREE amusements in the Family Fun Zone, and a bright-n-shiny Car & Motorcycle Show!
The event's name recognition has grown within our community along with our dedicated mission to serve: The Veterans, Active Military, First Responders, and the vulnerable of Yavapai County. Documented survey results and endorsement responses indicate that guests are engaged in improving our community. They see the Festival as a way to be actively involved locally.
​
Here you can click to view the Accomplishment Report and Contributors List.
120 Service Providers
90+ Volunteers
Veteran / First Responder Family Service Area assisted over 1000 families; Northern Arizona VA – 6 divisions.
Record numbers of Gift of Warmth donations of cold-weather clothing.
The Fostering Hope Award 2022 winner Agape House of Prescott received a $2,000 donation award.
The FREE Family Fun Zone and the Car & Motorcycle Show, the largest in the Festival's history, attracted thousands of guests.
​
Please prayerfully consider supporting Prescott's homegrown community service outreach. Click to see the Partnership Support Levels and Gratitude Packages. HOPE FEST Arizona is a 501(c)3 non-profit organization managed by an all-volunteer staff that is financed entirely through donor, corporate sponsor, and trade relationships – working together to impact the lives of our neighbors!